Keynote Speaker: Chelsea Clinton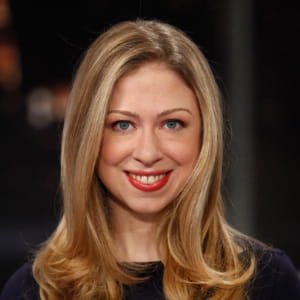 "A Conversation with Chelsea Clinton"
Friday, March 5
7:00 PM – 7:45 PM
About Chelsea Clinton
Chelsea Clinton is a champion for expanded access to early childhood education, civic engagement, and public health through her work as vice chair of the Clinton Foundation, a nonprofit organization founded by her father, the former U.S. President Bill Clinton, to "strengthen the capacity of people in the United States and throughout the world to meet the challenges of global interdependence."
A former Montessori student, she is the author of several books to inspire young readers including the #1 "New York Times" bestselling She Persisted: 13 American Women Who Changed the World as well as She Persisted Around the World, She Persisted in Sports, Start Now! You Can Make a Difference, Don't Let Them Disappear, and It's Your World: Get Informed, Get Inspired & Get Going.
Clinton is also the co-author, with her mother, Hillary Rodham Clinton, of The Book of Gutsy Women: Favorite Stories of Courage and Resilience, which celebrates more than 100 women who inspired them with their commitment to improving the world—including Maria Montessori.
Among her other books are another collaboration with Hillary Rodham Clinton: Grandma's Gardens, an homage to grandmothers, mothers, and their children; and Global Health: Who Runs the World and Why?, co-written with Devi Sridhar.
Through her work with the Clinton Foundation's Too Small to Fail initiative, Clinton helps parents, communities, and businesses to take action to improve the health and wellbeing of children from birth to age 5. She also works to uplift and empower female entrepreneurs and women-led businesses around the world through initiatives like the Caribbean-focused Women in Renewable Energy (WIRE) Network. Additionally, she serves on the boards of the Clinton Health Access Initiative and the Alliance for a Healthier Generation and teaches at Columbia University's Mailman School of Public Health.
She holds a PhD in international relations from Oxford University.
Of her Montessori preschool experience, Chelsea wrote (in Gutsy Women): "I...adored it. My favorite lessons were about the cicadas and our careful—and respectful—explorations of their shed skin."
Keynote Presentation sponsored by Sprout