Back to Schedule
Montessori Voices & Awards Night
Thursday, March 12 | 06:00 PM - 07:30 PM
All Attendee
Keynote
General Interest
Join us for an inspired and inspiring evening that will shine a spotlight on several of the bright spirits in our Montessori community—curious and passionate educators who are working to build a better world through Montessori, just like you. This will be a celebration of Dr. Montessori's vision as we look ahead to her 150th birthday anniversary in August 2020, and their work in making that vision a reality.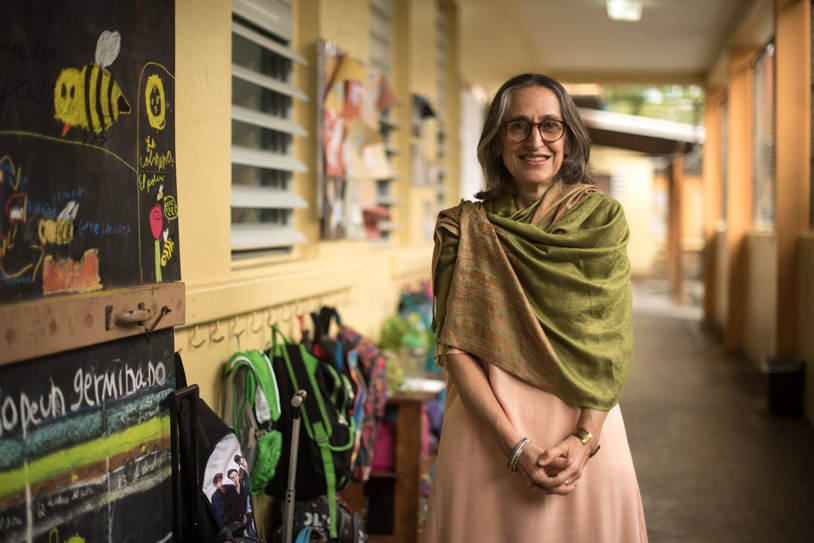 We will hear from 8 members of the community: 3 "Montessori Voices" and 5 award recipients, including Ana María García (above), the AMS 2020 Living Legacy, whose remarks will bring the evening to a resounding close, and leave you primed for the days of friendship and learning that lie ahead.
Montessori Voices
The evening will begin with 3 "champions of the cause" sharing personal stories from their life and work. Their diverse experiences will bring core Montessori principles and practices to life, and paint a picture of what a future with Montessori can look like.
If you don't already know these Montessori Voices, you're in for a treat. And if you do know them, get set for new discoveries and surprises!
Geoffrey Bishop is executive director and founder of Nature's Classroom Institute and Montessori School in Mukwonago, WI, a member of the AMS Board of Directors, and chair of the Montessori Life Editorial Advisory Board. Geoffrey grew up on a sheep station in New South Wales, Australia; has visited more than 80 countries, learning about and understanding the peoples of the world; and every year serves over 4,000 students, from across the United States, in NCI's residential environmental education program.
Luz Casquejo Johnson is assistant professor/director of the Montessori Teacher Education Program at Saint Mary's College of California, in Moraga, and a member of the boards of directors of AMS and Golden Oak Montessori School in Castro Valley, CA. Luz has also served as a Montessori teacher and charter school principal, and is a Montessori parent and alum. Her passion is Montessori in the public sector.
Molly O'Shaughnessy is director of training at the Montessori Center of Minnesota in Saint Paul; a member of the board of the Mario Montessori 75 Fund, which provides financial assistance for future AMI teacher trainers; a member of the Montessori Leaders Collaborative; and a former member of the board of the Association Montessori Internationale. Among her many accomplishments, Molly helped launch 10 Montessori schools in under-resourced neighborhoods.
Awards
Next, we will put our hands together for the recipients of 5 of our most prestigious awards: the Dr. Nancy McCormick Rambusch Pioneering Award, the Dr. Maria Montessori Ambassador Award, the Douglas M. Gravel Benefactor Award, the Montessori Innovator Award, and AMS Community Service Awards. Each recipient will take the stage to share brief reflections on their work. .
AMS Living Legacy
In a heartwarming culmination to the evening's lineup, Ana María García Blanco will join us virtually to tell the remarkable story of how she transformed the future of public Montessori in Puerto Rico. Ana María is not only a Montessori educator, community organizer, and peace education activist, but the recipient of our 2020 Living Legacy award, an annual tribute to an individual whose dedication and leadership has made a lasting impact on the AMS community. It is our honor to share her with you this evening.